Nesting great tits join their neighbours in mobbing predators but only if they know them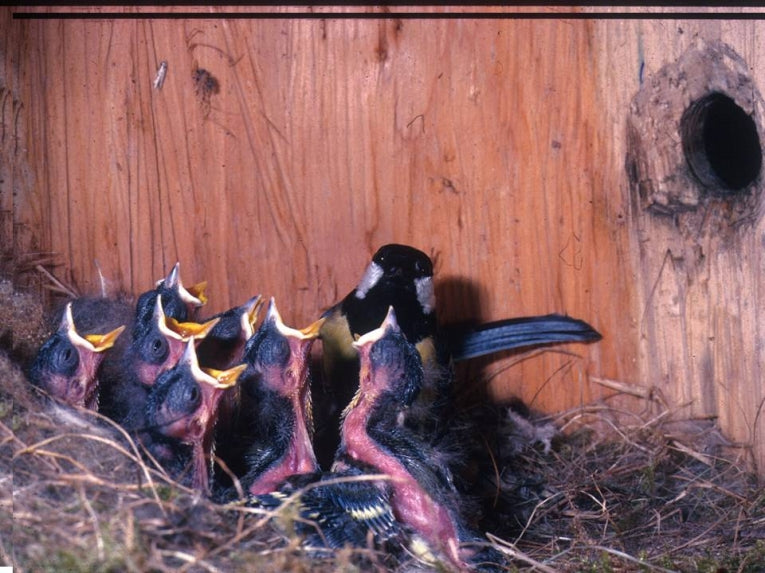 These nestlings from the experiment are a handful to a parent; Credit and Copyright: Chris Perrins
When you are familiar with your neighbours, it can be useful. Your reputation, if you are a bird, can precede you and helps in the local community. The limited social interaction and often the aggression between neighbouring great tits is familiar to those of us with them as garden birds.
In Oxfordshire, AM Grabowska-Zhang and her collaborators attempted to extend previous knowledge by relating familiarity to nest defence behaviour for the first time. They publish today in the Biology Letters journal of the The Royal Society.
Social animals benefit as a group, but many territorial animals are quasi-social in the sense that they have limited but measurable interactions at their personal borders. If the border is stable, then even countries have benefitted long-term, let alone a pair of breeding great tits (Parus major).
To the scientist, a tremendous question involved here is the evolution of sociality. As nest predation is critical to small birds, effective social mobbing of predators is obviously useful. Witness the last arctic tern colony you may have visited!
Passerine birds such as the tit family are well known to emulate the terns, if not quite so effectively. A relationship with neighbours would also reduce aggression and in this case encourage mutually beneficial alarm calls. Very stable relationships may enhance individuals' reputations after repeated interactions. Certainly the reproductive success of familiar birds has recently been documented, so this study looks at distance from the affected nest as a factor as well as call rate (related to the intensity of mobbing).
In Wytham Woods, near Oxford, great tits nest in boxes every year. In 2011, birds older than one-year-old were monitored and their 8-12 day old chicks identified with rings or electronic tags. Pairs of neighbouring nests were recorded as:
1. Familiar, if adults were older than one year and at least one member of the pair had been neighbours in the previous year( where two members were know to each other, there was no increase in response);
2. Unfamiliar, if these adults had not been neighbours in the previous year, and,
3. First year (adults)
With the approximately 17 day-old nestlings, the adults were automatically marked with non-toxic paint as they brushed against the box entrance live and the trials began. The experimenter moved noisily to the nest-box tree, used a pole to scrape the trunk and scraped the woodcrete box itself. Male birds regularly reacted to this human predator just as they would normally to a predator, with alarm calls. One parent always reacted for at least five minutes.
The latency of neighbour support was measured and found to be unaffected by the distance of their own nest and their call rate recorded for the second minute of mobbing. (After an hour, the neighbour's nest was given a repeat!) Eight nest pairs were tested in total, and neighbours joined in 12 out of 16 trials with even unfamiliar joining in on two such trials.
The poor old first years never had a neighbour joining in. I suppose they will learn! The authors struggle to explain why they never joined, "the mob," but it seems affected by the dispersal of youngsters from their parents' nests and, therefore, their less sedentary movement compared to the established pairs.
Conclusions whirl around the social evolution of familiarity, whether selfish and mutualistic or simple reciprocal response, due to a local "reputation." Either way, the research at least gives a lead that those neighbours came running whatever the distance, although only a 70m (230 feet) maximum occurred in this experiment